Sydney Rental rates and information
Rental rates per day - minimum 2 days hire

VW Caddy

| | |
| --- | --- |
| | |
| 2 - 6 days | $140.00 |
| 7 days | $130.00 |


Kia Carnival

| | |
| --- | --- |
| | |
| 2 - 6 days | $165.00 |
| 7 days | $155.00 |


Toyota Commuter

| | |
| --- | --- |
| | |
| 2 - 6 days | $200.00 |
| 7 days | $185.00 |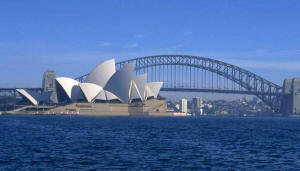 Sydney Airport Services
Clients arriving and departing from Sydney airport must follow this procedure so that vehicle collections and dropoffs are operated smoothly. All clients must advise their flight arrival time and departure checkin times at the time of reservation so that our representative can meet you at the terminals.Do not proceed to the terminals without this notice as airport security prevents the vehicle being left for any period near the terminal buildings. Domestic arrivals. Once you have collected your baggage and chair from baggage claim please call us and your vehicle will be bought up to the terminal for easy loading etc.
Sydney - Domestic Arrivals/Departures
Pickup and dropoff at the terminals see
Terminal map
Sydney - International Arrivals/Departures
There is no provision for dropoff and pickup directly outside the International terminals. Proceed to Level 2.of the multi story car park and follow signs to the disabled parking zone Here 20 disabled parking places are located closest to the walkway bridge to the terminal. This is fully accessible from the terminal.
Sydney Rail Stations
Rental vehicles may be delivered to and dropped off at selected Rail stations at arranged times. Stations covered include:- Hornsby,Chatswood,Epping,Central, Strathfield,Lidcombe,Parramatta,Liverpool and Hurstville. A delivery fee of $150.00 applies for delivery or collection at Sydney airports and rail stations.
Major rail transport centres in Sydney have provision for the collection and dropoff of accessible vehicles.Meeting times are arranged at the time of reservation for our representative to meet you.
Tolls/ GPS
Sydney has many tolled roads and it is the responsibility of hirers to ensure that they have made arrangements to pay these tolls prior to driving vehicles past the toll points. Pls visit
www.linkt.com.au
for details on how to prearrange this for your hire dates. Clients with valid toll transponders from other Australian cities can fit these to the hire vehicle.

Free GPS in Sydney !
GPS systems are available for FREE to assist you with navigation throughout the city. GPS systems must be prebooked at the time of reservation or bring your own GPS if you have one.For a first time driver to Sydney we highly recommend use of GPS as it will make your visit very easy.
Wheelchairs to hire in Sydney
Wheelchairs for hire>
- Short or long term rentals available
Disabled Parking in Sydney
An accessible parking permit gives you special arrangements at many city centre parking areas. Please bring your own permit if you wish to make use of these facilities.
Sydney Touring Map
Plan your trip with this handy "Google" map
View Map